Share
Regular price
$ 3,407.00 USD
Regular price
Sale price
$ 3,407.00 USD
Unit price
per
Sale
Sold out
View full details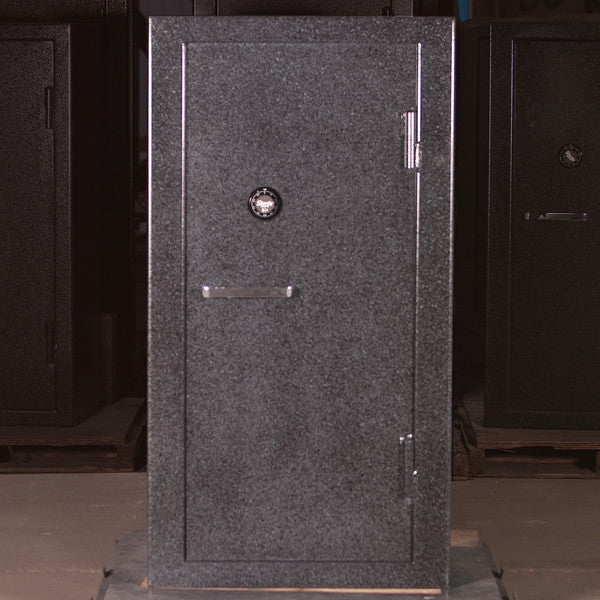 Exterior Dimension- 32"W 24"D 60"H (Add 1.5"D For Handle)
Interior Dimension Without Fire- 31.6"W 20"D 59.6"H
Interior Dimension With Fire- 27"W 17.3"D 52"H
Body/Door Thickness- 3/16 Body, 3/16" Door
Cubic Foot (Fire Lined / Without Fire)- 14.1 / 27
Gun Count-
Interior #2 (With / Without Side Shelves):
Interior #3:
Customizable- We will call you for details.
Shipped Weight-
With Fire:
Without Fire: 
Please Note: This model has the thinner 3/16" plate door, so the welds for the 

inner

 door framing are visible on the outside of the door when the light is hitting it at an angle. 
Option Details
Interiors




#1 All Shelving

Four shelves straight across. No gun rack. All shelves will hold about 150 lbs.

 




#2 Rack & Shelves


1 top shelf (2 for 6 ft tall safes) that holds about 150 lbs., 1 gun rack, 1 side shelf that can hold about 150 lbs. and 2 ten-inch-wide bottom side shelves that hold up to 40lb each. You are able to remove the side shelves to gain the full gun capacity of the safe. 




#3 Customizable 

This interior is best for those who don't have many long guns and would like larger side shelves that carry more weight. We will call you for the best division. Comes with 1 gun rack, 3 side shelves and 1 top shelf (2 for 6ft tall safes). All shelves would carry 150 lbs. 




 Standard Gun Rack

Holds a lot of guns and allows room for rifles with scopes. This rack is made with more rows for larger size safes. 




Easyout Loop Gun Rack


Get to all your guns with ease without need to take the ones out in the front to get to the ones in the back. This rack is made wider for larger size safes. 




Rifle Rods Gun Rack 

Have the potential to store more guns than our Standard Rack. The safe will come with as many rods as our Standard Rack will carry without side shelves.

 

 ∙ Every gun rack and shelf is fully adjustable up and down as well as removable.

 ∙ View the scaled interior size chart for non fire lined safes specifically for the model you are interested in. Fire lined safes have one less row of guns exposed. 
Extras




2300° Fire Insulator

The interior is stuffed with 2.5" of 2300° 8 lb. density ceramic wool and 1"- 2"of fiberglass blanket. Then it's compressed by a 16 gauge inside steel liner. If you do not add this option the safe will have no fire insulator. 




Fire Blanket Cover


Hide the safe and protect it from fires too! This heavy duty 2300° ceramic fire blanket goes on the outside of the safe and slows down the heating process for a minimum of 30 minutes. D-Ring strap closure. Only made for sizes 2419, 2822 and 3224.




Security Door Cover


10g padlock style security door to stop ill equipped burglars from incurring high repair costs with attempted break-ins. Also helps disguise the safe plus other great features. Safe MUST be anchored down for this item. Only made for sizes 2419, 2822, 3224, 3224-6, 3627 and 3627-6. 




Handle & Dial Cover


Padlock style handle and dial cover will stop ill equipped burglars from incurring high repair costs associated with breaking off the handle and dial. Made with 3/16" plate. 




Safe Inside A Safe

This extra thick, pry resistant safe has an interior space that measures about 12"D x 9.5"W x 4"H and is welded to the inside ceiling of the gun safe. The body and door is made of 5/16".





Twin Lock System- One Spin, One Electronic


Adds 2x the locksmith entry time assuming both locks were locked. Comes with one S&G 6730 spin dial and one S&G Titan D-Drive electronic. Both dials need to be in working condition and unlocked in order to get in. One dial does not override the other. 




Twin Lock System- Two Spin


Adds 2x the locksmith entry time assuming both locks were locked. Comes with two S&G 6730 spin dials. Both dials need to be in working condition in order to get in. One dial does not override the other.




D-Drive Electronic Lock 


These type 1 electronic dials by S&G have less moving parts and boast a longer lifespan. Fewer parts = less potential to break. These are warranted for two years including locksmith entries.

Key In Dial 

Stops the dial from spinning. Comes in handy if you intended on randomly locking someone out who has the combination. This is not to be used as a quick access into the safe! Not compatible with electronic locks.





Locksmith Resistant Hard Plate Upgrade 


A hard plate comes standard with every Sturdy Safe however this option is designed to slow down locksmith entries. It's a diamond /carbide bit resistant machine tool pin hard plate that is as hard as ball bearings. For this option you would need to believe a burglar is smart enough to know locksmith entries. THIS VOIDS LOCKSMITH ENTRY COVERAGE ON THE  WARRANTY.




Handgun Hangers 


Store More Gun hand gun hangers available! Store your pistols with 100% use of your shelving space. These are much better than door organizers simply because you do not need to cut down the gun rack or shelving about 4" to accommodate them. They fit as small as .22 caliber, or larger. Vinyl coated and made in the USA! 




Dri Rod Dehumidifier  


This option is great for safes located next to an outlet. Just plug it in and forget about it. Dehumidifies the safe by regulating the temperature inside.

Eva Dry 

This dehumidifier requires more work than the Dri Rod. However, it comes in handy if you are NOT placing the safe next to an outlet. It sucks moisture out of the air in the driest climates. Once indicator says it's wet, you must plug it into an outlet for 10-12 hours till it's dry enough to put back in the safe.




Mountable Floor Plate

If you can't anchor to your foundation like normal you'll love this 3/16" steel floor plate that measures 4ft x 4ft (adjustable by request) and weighs 120 lbs. It makes the dimensions of the safe large enough to prevent the safe being able to go through average size door ways. 
Read What Comes Standard With Every Safe!
Garage And Small Truck Requests

These options are potentially available but not guaranteed. Deliveries must be possible with one truck driver, a pallet jack and a semi truck. Let us know in advance if you might have issues. 

Contact Us For Discounts

We might be able to save you money from the online price depending on your location. 800-262-0023

Quote By Email

8-9 Weeks Till Completion

Sometimes sooner. If you're in a hurry, contact us to see what we have in stock.

Shipping And Tax Included

The price you see is the price you pay. No shipping or tax charge will be added.