Share
Shipping and tax included.
Regular price
$ 590.00 USD
Regular price
Sale price
$ 590.00 USD
Unit price
per
Sale
Sold out
View full details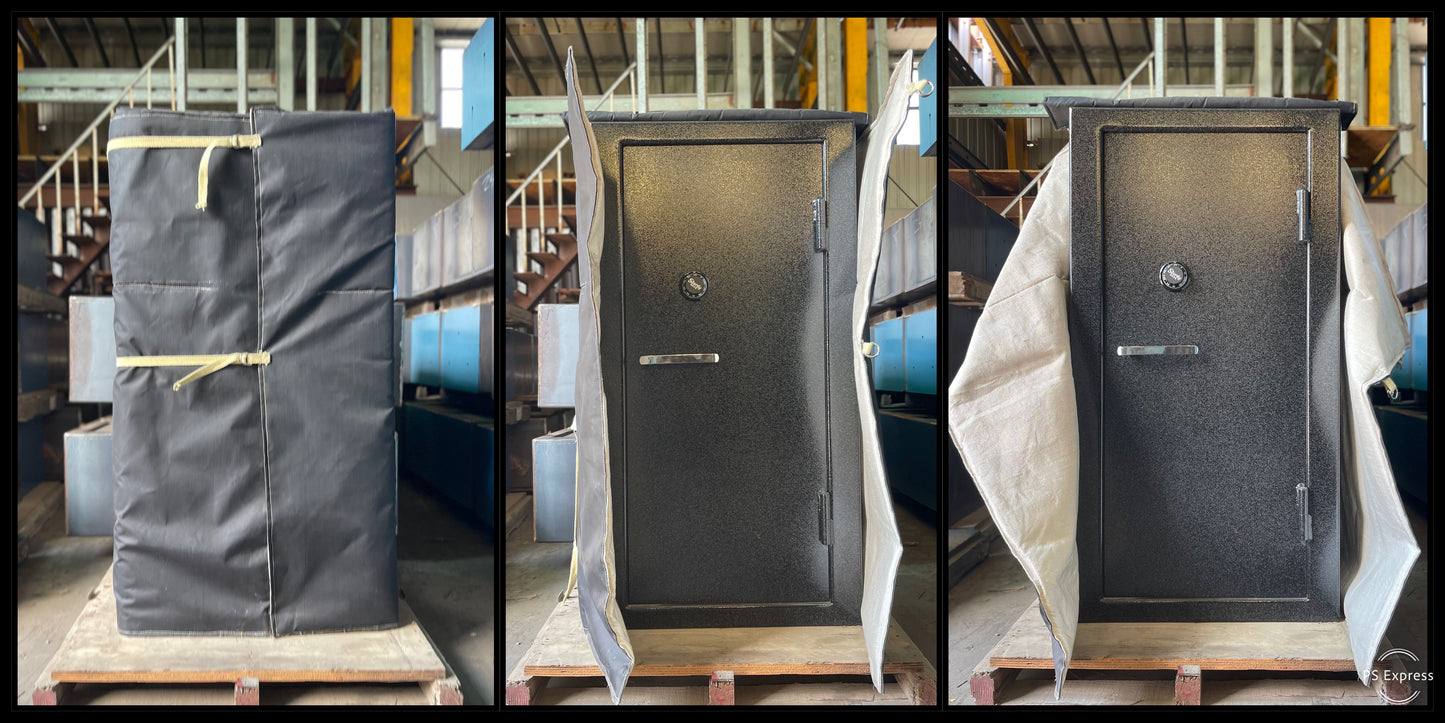 Meet the new Sturdy Safe Fire Blanket Safe Cover! Designed for those who wish their safe was insulated from fire better. Most safes have fire insulation on the inside which is combating an extremely heated steel body. This ingenious fire blanket slows down the steel body from heating up in the first place. Depending on the speks of the safe, it will be about 25-35 minutes before the heat transfers through the steel body enough to start heating up the cavity. If your safe was insulated internally it will add even more time before cooking the items inside.
Dimensions:
Adjustable to fit heights of 59-60"h, widths of 23-32" and depths (measure including handles) of 19-25.5". Total circumference needs to be between 43.5-57.5".
It will comfortably fit our 2419, 2822, 3224 and any size in between. 
We only designed these blankets for smaller size safes since they needed the most help in a fire. 
How it's made:
This is a three layered blanket. The exterior is similar to a welding blanket which deflects metal slag and heated debris from penetration. Center is a special highly compressed 1/4" ceramic insulation that acts like .5" of 2500 degrees ceramic. The inside is a softer fireproof fabric to protect the safes paint and sandwich the insulation material. The d ring straps are similar to boiler gasket tape and all of it is  sewn together with fire resistant thread! 
How to apply:
On the back of the safe, center the smaller rectangular portion of the cover with the roof of the safe, making sure the edge of the smaller rectangle is positioned on the edge of the top back corner of the safe body. Wrap the larger rectangular part of the cover around the body, but don't strap it down since the roof stop will need to be attached first. After applying roof strap, tuck in the excess of the roof cover under the body cover, then tie the body straps down. To remove the cover to access the door just unattached the two body straps and open the blanket. Because the roof strap is still on the blanket will hang in place and not fall off. 
Shipping And Tax Included

The price you see is the price you pay. No shipping or tax charge will be added.